How To Apply for Singapore Citizenship and Become a Citizen?
With Singapore ranked as one of the most liveable places, Singapore permanent residency is highly valued. How do you go about obtaining Singapore citizenship then? Fret not, for we cover all you need to know in this handy guide. Read on to find out more.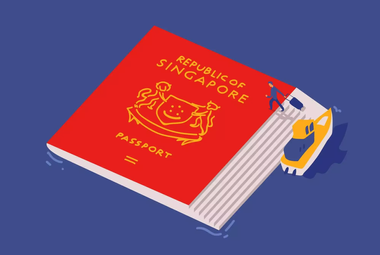 Singapore is reputable for many things – from its clean streets, one of the best education systems, amazing infrastructure to great food, it's no wonder that Singapore citizenship is highly desired.
If you are a foreigner, you will have to become a permanent resident first, before you can convert to a Singapore citizen. It may sound cumbersome, but fret not – for we break down everything you need to know, from obtaining a Singapore Permanent Resident (PR) status to becoming a Singapore Citizen (SC).
How Can I Become a Permanent Resident?
According to Immigration & Checkpoints Authority (ICA), you can apply for permanent residence as a foreigner if you meet the following criteria:
Are an aged parent of a citizen of Singapore
Are the spouse of a Singapore citizen or Singapore permanent resident
Are a student pursuing education in Singapore
Unmarried child below age of 21
born within context of a legal marriage or adoption by a Singapore citizen or PR
Professional/Technical Personnel and Skilled Workers Scheme
Hold a valid work pass including Employment Pass, EntrePass, or S Pass
Eligibility
Requirement
Employment Pass

For employees who receive a job offer from a company for a management position
For business owners who start up a business in Singapore and use it to process Employment Pass

A fixed monthly salary of S$4,500-8,400
Higher Education, preferably from a reputable University.
Professional experience relevant to your job description.
Profile of your employment company.
If you register a business yourself, you will have to prove that your intentions are serious and you can support the salary you'll be paying yourself. Authorities will look at your bank account, so make sure you have approximately S$50,000 deposited on behalf of your company.

EntrePass

EntrePass is open to all citizenships/ nationalities

Have started or intend to start and register a private limited company with Accounting and Corporate Regulatory Authority (ACRA)
Company must be venture-backed or owns innovative technologies
Fulfill any of the innovative criteria as an innovator, entrepreneur, or investor listed here

S Pass

Fixed monthly salary comparable to top one-third of local Associate Professionals and Technicians (APT) salaries, with a minimum of S$3,000 (and increases progressively with age, up to S$4,500 for individuals in mid-40s).
Applicants in the financial service sector will require higher salaries to be eligible.
Foreign Artistic Talent (ForArts)
Foreign artists with exceptional achievements in their home country and overseas may apply, and their applications will be reviewed by the Immigrations and Checkpoints Authority and the National Arts Council (NAC). The Singapore government also encourages those with international recognition and exceptional achievements in music, dance, visual arts, theatre, literary arts, and professionals in related arts to apply under this scheme.
Foreign investors need to have substantial business track record and are willing to invest at least S$2.5 million in new or existing local business operations
What Affects My Chances Of Becoming a Singapore Permanent Resident?
While there is no foolproof way to guarantee your Singapore permanent resident application, there are various factors that the Immigration & Checkpoints Authority may look at.
These factors could affect your chances of getting your application:
Foreigners will have to fall under one of the four eligible categories in order to apply for permanent residence  –  Employment/S Pass Holder; Investor; Spouse/Child of Singapore Citizen; Aged Parent of a Singapore Citizen; or Permanent Resident.
Some industries may be more saturated than the others, with exceeding demand from applicants. On the flipside, other sectors may require more industry experts. If your expertise and skills are in line with what Singapore requires, then your application will have a higher chance of approval.
Qualifications no doubt play a part in Singapore's assessment of her citizens. If you have achieved higher education, hold a good position in your company, or contributed to your industry, Singapore will be more likely to view you as an individual who can contribute actively to the economy.
Although the Permanent Residence application only requires payslips for the past 6 months, this does not mean that you should apply the moment you have worked for half a year in Singapore. Instead, we would recommend that you wait for at least a year, depending on your Employment Pass. Doing so will allow the government to better understand what you do in Singapore. Additionally, you can make use of your time in Singapore by building your reputation. Invest your time by doing volunteer work, upgrading your qualifications, giving back to society, abiding by the laws, and paying taxes. This shows the government that you can be a responsible member of the country.
Presentation of application
It's important the way you present your application. Make sure that your Form 4 or Form 4A is properly filled out, with easy-to-read information. The supporting documents should also be included in an organised manner.
Osome's pro-tip
Getting a Singapore PR requires lots of time and persistence. Rejection and reapplication is common, but you could improve your chances of getting a PR with expert guidance from consultants with years of experience in the Singapore immigration landscape.
If you require advice on various work visa options to come to Singapore and set up a company here, our experienced company secretaries will be able to help you.
How To Apply For Citizenship in Singapore
If you are planning to sink your roots in Singapore, it is worth considering converting to a Singapore citizen, instead of remaining as a permanent resident. To apply for Citizenship, one needs to spend 2 years living in Singapore as a PR.
Upon approval of your Singapore citizenship, you will be considered one, which means you no longer have to renew your work passes or PR status every two to five years.
Thankfully, this step is easier than obtaining PR status. However, it also takes longer and you never know if and when your application is approved.
Nonetheless, here's how you can go about your application:
Check The Requirements to Become a Singapore Citizen
Before you apply for citizenship, it's crucial to check how to become a Singapore citizen, and Singapore's citizenship requirements. According to ICA, you can apply if you meet one of the following criteria:
Have been a PR for at least two years, and have been legally married to a Singapore citizen for at least two years.
Are aged 21 and above and have been a PR for at least two years. Alternatively, you can also apply with your spouse and any of your unmarried children below the age of 21 within the context of a legal marriage or legal adoption by you).
Are a PR and an Aged Parent of a citizen of Singapore
Are a PR schooling in Singapore; and have been living/residing in Singapore for over 3 years (of which, at least one year as a PR); and have passed at least one national exam (e.g. PSLE, GCE 'N'/'O'/'A' levels), or are in the Integrated Programme (IP).
Are an unmarried child below the age of 21, born within the context of a legal marriage to, or legally adopted by a citizen of Singapore.
Prepare Your Application and Supporting Documents
Next, fill in the application form with the necessary Singaporean citizenship documents including:
Current passport
Birth certificate
Marriage Certificate
Divorce Certificate or Separation Deed (if applicable)
Permanent Residency Card
Educational qualifications and certificates, high school onwards
In case of divorce, you will need to submit proof of child/children's custody from your previous marriage
In case of a name change, you shall need to submit a Deed Poll or a Religious Certificate
Foreign citizenship certificate
Letter of employment
Income tax notice of your assessment from the last 3 years
Last 6 months payslips and 12 months CPF contributions history, if employed
For business owners, the latest ACRA business profile, along with the profit and loss/balance sheet statement of your business
If your spouse and children are also permanent residents, you can apply for their citizenship together with yours. In this case, you will be considered as the sponsor and all the applications will either be approved or rejected at the same time. Your spouse will have to submit the same documents as listed above, but you need only submit the birth certification, passport, and PR certificates for your children.
Since you want to convince the Singapore government that the country can benefit from your citizenship, other additional documents that can help with your application include:
Cover letter. This provides  a summary of your application, and should mention the key pointers such as your financial ability, the decision to apply, and other positive factors.
Whether you have invested in properties in Singapore, and if so, do submit the proof
If you have significant financial assets, do submit the evidence for the same
Submit Your Application Online
Organise the necessary documents, scan them, and translate them officially if required. We recommend that you check with the embassy for translators. You can then login with SingPass and submit your Singapore citizenship application online.
Attend Your Interview
As formality of completion, you are required to attend an in-person interview with an ICA officer to confirm that the data and documents submitted are correct and accurate.
Your Application Outcome - How Much Time Does It Take?
ICA estimates that they will require 6 to 12 months to process your application. However, the actual processing time usually takes much longer – so just be patient! Note that there is currently no online system that allows you to check the citizenship application status. Instead, you will get a letter through the postal mail notifying you about the outcome. Alternatively, you can call the ICA office to enquire about your application status.
Depending on the embassy, the renouncement of your original citizenship can take a month of two. Once that has been completed, along with your passport and NRIC application, your citizenship ceremony will be scheduled within 3 to 6 months.
Does Singapore Offer Dual Citizenship?
Unfortunately, the Singapore government does not allow dual citizenship. However, some individuals may become a dual citizen through one of the following four ways:
By birth to a child born in or outside of Singapore, whereby at least one of the legally married parents is a Singapore citizen
By descent when he/ she has a foreign parent
By naturalisation
By registration
However, since Singapore does not permit dual citizenship, the individual with dual citizenship has to renounce his/her foreign citizenship to become a Singapore citizen. The Singapore government may deprive an individual of his/ her Singapore citizenship if the individual acquires or continues to retain his/ her foreign citizenship after they turn 18 years old.
More information can be found on the Constitution of the Republic of Singapore website.
What To Do After Your Application Is Approved
Complete the Singapore Citizen Journey (SCJ)
To learn about Singapore and its culture, complete the Singapore Citizen Journey (SCJ) – an educational program that includes 4 modules, a half-day tour and a community session.
Renounce Your Original Citizenship
Since Singapore does not allow dual citizenship, you will have to surrender your previous passport.
Take the Oath and Register for Singapore Citizenship
Upon receiving your approval letter
Visit the ICA office for the Oath of Renunciation, Allegiance and Loyalty. The appointment letter will include the date and time for you to attend the oath-taking event, along with important documents you need to bring along. These include:
Original and photocopy of the Renunciation Letter
The Renunciation Letter will detail the need for you to visit the embassy of your current nationality and renounce your current nationality in exchange for Singaporean citizenship. In general, the embassy accepts your sworn statement to give up your citizenship. The embassy then sends it to the concerned authorities back to your home country for further processing. Depending on your home country, the process of renouncing Singapore citizenship can take between 1 to 12 months. At this point, you will receive a formal certificate indicating your loss of nationality. The embassy will also issue a letter to confirm your submission of the renunciation application. This letter is sufficient and acceptable to carry out the oath-taking event to the ICA office. You also need to submit to the ICA office a copy of the Loss of Citizenship certificate, once you have received the same from the embassy.
Your Permanent Residency Card (blue identity card)
Four passport size photos according to the specifications mentioned in the approval letter
Any other pieces of document that are mentioned in the approval letter
On Oath-taking Day
On the day of your scheduled appointment, visit the ICA office along with the necessary documents mentioned above. The officer will:
Collect the documents, including the renunciation letter offered by the embassy
Request you to take the Oath of Renunciation, Allegiance and Loyalty, and even sign some procedural paperwork, if required
Collect the fee payable, through NETS, for issuing the citizenship certificate, Singapore
Issue a temporary identity card to you as proof that you are now a Singapore citizen.
Finally, you will have to file a complete application for NRIC and a Singaporean passport.
Attend Your Citizenship Ceremony
Celebrate your journey to officially becoming a Singapore citizen by attending the citizenship ceremony to receive your passport and NRIC. Congratulations!
What Are the Benefits of Becoming a Singapore Citizen?
According to The Henley Passport Index, the Singapore passport is considered one of the best in the world – and rightly so.
For a start, the Singapore passport allows you to travel to 193 countries visa-free. That's not all, a Singapore citizenship also allows you to:
Find out more about the perks of becoming a Singapore Citizen here.
How Much Is It To Apply for Singapore Citizenship?
For your Singapore citizenship application, you will have to pay the ICA for:
Application fee: S$100
Citizenship certification and Singapore Identity Card (upon approval of your Singapore citizenship status): S$80