Choosing a Virtual Office Service for My Company
Are you considering reducing your expenses and wondering if a virtual office fulfils the requirements to set up a company? Read on.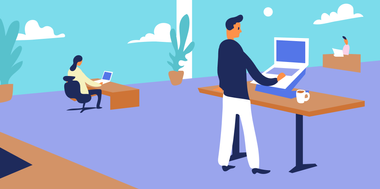 One requirement for incorporating your company in Singapore is a registered office address.You must have a business address before you can form your company.
Traditionally, companies would rent an office space with its own address. This choice will come with hefty rental rates. An alternative is to use virtual offices. This is great if you are just starting out and do not have much capital to spend on renting an office space.
What is a virtual office?
A virtual office is a service that enables business owners and their employees to work remotely by providing a range of business functions accessible through the internet. You can create and maintain a presence in a physical address without having to pay rent for an actual space.

You and your employees can be anywhere, but still have the office-related services like mailing address, mailbox service, phone answering services and meeting rooms. By the way, Osome provides a company address for clients who incorporate with us. We notify you when you receive letters in the mail and help you to scan and forward the messages so you don't have to be physically in the office to check your letters.
Isabelle's digital marketing company has an office address on their website that says 48 Shenton Way, WHE Downtown Tower 2, #23-055, Singapore. That address is valid and is a physical office space, but there is only one or two essential staff in the office. Isabelle and other staff, on the other hand, are working from their own homes either locally or overseas.
Does a virtual office serve as a Registered Office Address in Singapore?
Yes, ACRA's criteria states:
The office must be open and accessible to all for at least five hours during ordinary business hours on each business day
The office address should be a physical office address located in Singapore.
The address cannot be a P.O. Box
Officials from the various regulating agencies may need to call upon you to inspect your company folder or other documents. They would use this registered address to send their letters to the company. Checking the contents of the incoming mail is important as it could be the last reminder of annual filing, changes in policy, new government scheme, etc. Our corporate secretarial services can also remind you through our website and app service.
Who can use a virtual office in Singapore?
Using a virtual office to fulfill the requirement of having a registered address in Singapore is not just for foreign business owners. Even local SMEs can have one.
Is a virtual office suitable for your business?
First, consider the nature of your business, company structure and company values. Not all types of businesses should opt for virtual offices to save costs. Here are some points to help you decide if a virtual office is for you:
You want to save on your expenses

Space is expensive in Singapore. Rent is a large fixed cost on your monthly expenses. Most young entrepreneurs will have limited capital to start with. It is illogical for startups and SMEs to spend huge amounts of their capital on rent, utility bills and office expenses when that money can be used to invest in the company itself. However, this is inevitable if you want to start a business that needs space for staff to work in.
You and your staff are comfortable with technology
Gone were the days when in order to have a meeting, individuals must be present physically and gathered in a meeting room. Telecommunication has seen a spike in the number of users ever since a worldwide pandemic such as Covid-19 appeared.
Your staff can work remotely
Many companies have seen the advantages of working from home, and are considering a permanent change where staff can be allowed to work from home more often. In a survey of 9,000 respondents conducted by The Straits Times, nine in 10 employees prefer to work from home. Some reasons include saving money on transport, eating out and even office wear, while others appreciate being able to spend more time with their family even when working.
Believe it or not, a study by Forbes has found that happy employees are up to 20 percent more productive as compared to unhappy employees, which can help boost your business in the long term.
You want flexible options as your company grows
There is no fixed pricing on choosing a virtual office. Most virtual office providers will offer packages with optional add ons like meeting rooms on a subscription-based basis, starting from six months onwards. Of course, this would vary based on the provider you decided to go with.
Next steps
The first impression counts when it comes to your business image; having an address at the heart of Singapore puts your business ahead of others, as compared to listing your home address on your website.
If you are looking for a physical address to register your company, but want to set up your office virtually, Osome can help with that. We can also take it further and provide you your very own virtual accountant and corporate secretary from your phone or your desktop. Drop us a chat to learn more.