The No-Nonsense Guide To Start an Online T-shirt Business
E-commerce is the way to go, with increasingly more people doing their shopping online instead of in physical shops. Here's a quick guide for you to start one selling t-shirts.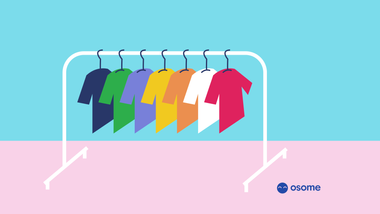 E-commerce is the way to go, with increasingly more people doing their shopping online instead of in physical shops. As more people are spending time at home globally, the trend of online shopping will just go upwards making it the perfect time to start a business, and set up an online t-shirt business is one of the most popular ideas.
What is E-commerce?
If you're reading this, we trust you've already done your research and planning on how to start an online business in Singapore. So, we'll be skipping all of that in this article.
Instead, we'll be focusing on a lucrative, popular business choice for both beginner and seasoned entrepreneurs - T-shirts! For an e-commerce store, T-shirts are cheap to source, simple to personalise and are worn universally.
Nonetheless, if you're unsure on how to get started, we have just the guide you need to set up your own e-commerce company in Singapore! Our guide brings you through setting up your company, how e-commerce is relatively cheaper to start up, and how to create a successful e-commerce company in competitive Singapore.
What is Your Big Idea?
With any successful business, you need an idea that helps you stand out against the competition. T-shirt businesses are so popular and you'll definitely be facing some strong competition. It's no wonder though - T-shirts are an inexpensive way to start up, but are also articles of clothing that every person needs and owns.
Catering to a specific target audience can help you build a niche to focus your designs on. Most often than not, it is easier to start with something you are passionate about.
Catherine loves dogs, the Otterhound in particular. Otterhounds are considered to be rarer and more expensive in the puppy business. She also loves sports cars, especially Lamborghinis. Putting these two things together can result in an interesting design that may just be sellable. Imagine an Otterhound puppy driving a Lamborghini, how adorable will that look!
What we're driving at here is that you need to find something that interests you in order to keep you motivated and committed in this long and daunting journey.
Who are You Selling To?
Your target audience should be as narrow as possible, so that you know you have their full attention. Afterwards, feel free to ride on the word-of-mouth trend!
If Catherine is able to kickstart her design, she will be catering to a niche audience. Selling to dog lovers and car enthusiasts is a good idea, although it is way too general. She will be targeting rare dog breed lovers, and people who appreciate Lamborghinis. There is also space to expand her business - to other rare breeds and expensive sports cars. If Catherine stays invested in the business, she could get a small following first, before her followers spread the news about her awesome designs.
What Kind of Design Theme Are You Going For?
Simplistic, modern or loud? It's your choice.  
Your designs do not necessarily need to be very complex. In fact, most famous designs currently in the market are very simple. Most importantly, the designs you have should not be a copycat of an already existing design and they do need to be unique!
Some prefer a loud design, or complicated product thumbnails. Well, we'd prefer to use a simplistic and neutral tone for our product thumbnails. It's the first impression potential customers will be getting when they enter your website, and we do not want to throw too much information into a small space.
Who Will You Be Working With?
An e-commerce company still counts as a company. You will need the designers, marketers, accountants and people to handle different aspects of your business. Unless you can do all of those yourself!
For starters, you'll need to incorporate your company. It's the first step of starting your own business, so nothing can go wrong here. If you're not sure on how to incorporate a company, Osome can help. Just check out what we can do to help you, and we'll handle all the other steps!
Of course, after incorporation is completed, you'll need to start designing. Not to worry if you do not know how to design, you can find a professional to help you! Freelance designers can also pitch you their design ideas if you have a theme for them to work on. Check out freelancer websites such as Upwork and Fiverr, it doesn't cost that much to hire someone to churn your designs out for you.
Next comes the marketing bit. Be it digital marketing or simply advertising on social media about your product, you need marketing. If not, how else will the world know of your awesome T-shirts? Consider using Facebook advertisements or Instagram business accounts for starters. They're an inexpensive way to get your ball rolling.
What Material Are You Using?
Always remember - one of the most important factors that plays a huge part in your success or failure in a business is the quality of your products!
Benjamin came across an Instagram targeted advertisement on an art company that sells handmade canvas artworks, while he was decorating his home office. He was intrigued by the innovative design and immediately decided to purchase an artwork he was most interested in. Why didn't Benjamin place an order for a few more pieces at the same time?
Customers are prudent about things they buy online. Most buyers do not place a huge order when it's their first purchase because they do not know what they are expecting to receive. They are also more likely to recommend your product to a friend if they know they will be getting a quality product.
Benjamin received his canvas art piece after a week, and was happy that the piece he received was to his satisfaction. However, after a month, he realised that the print was fading, and the canvas started peeling. Will Benjamin make a repeated purchase from the art company?
We guess not. That's the importance of choosing a quality material and print company for your T-shirts. Higher quality T-shirts may cost you a bit more to produce, but this is at the expense of retaining your customers and trusting that they will make a repeated purchase from you.
Where Will You List Your Products?
There are many platforms to sell on.
Find out the most popular e-commerce platforms to sell on in Singapore.
You have 2 choices now.
To start your own website from scratch or to list your product on an existing e-commerce platform?
We recommend you use an e-commerce platform, especially if you are starting out and do not have a strong customer base yet. So, what are these platforms and are they free?
Unless you were living under a rock, you would have heard of these popular online stores in Singapore - Shopee, Lazada, Qoo10, Amazon.sg, Ezbuy. You can choose to list on more than one if you prefer to!
Why use e-commerce platforms? You do not necessarily have to spend a lot of time, money or have a lot of knowledge about e-commerce to start listing your products on these platforms. These hosting platforms are already well established with a massive customer following, and have the right tools you need to grow your business. From existing infrastructures and analytics to payment and shipping methods, you'll be fully covered.
How Much Does it Take to Sell Your Product?
An online business still needs a registered company.
There are many things to consider, so we've put it up in a guide for you to set up an e-commerce company.
How will your customers surf your products and eventually place an order for them?
Starting a website for an online business is not as simple as starting an online blog. If you are going to be selling products, you will need to consider your payment methods, currency choices, shipping options, checkout options and more. Not to mention the time and energy needed to set them all up and get them working right!
We're not saying it is totally free to use platforms and list your products. It comes with a cost, but this cost is considerably lower than you starting a website from scratch. These may include platform costs to host your products, or selling costs when you successfully make a sale. If you're looking for free to use websites, consider Carousell (if you're located in Singapore, that is).
Nonetheless, there are some things you must handle yourself.
These include:
Fees and charges
Statements and reports
Tax rules
Different receipt formats for every platform
These are important to comply with, if you do not want to risk facing the consequences of noncompliance. After all, you are starting a business to reap returns, not to lose money. Not to worry, at Osome, we not only handle traditional companies, we also help e-commerce businesses handle statements, provide accounting services and help you file your tax.
Simply let us know which platform you are on, and we'll figure out the rest for you. We can even consolidate your profit charts and unpaid invoices so that you know what needs to be done. All you have to do is contact us for an instant callback or schedule a demo to see us in action.